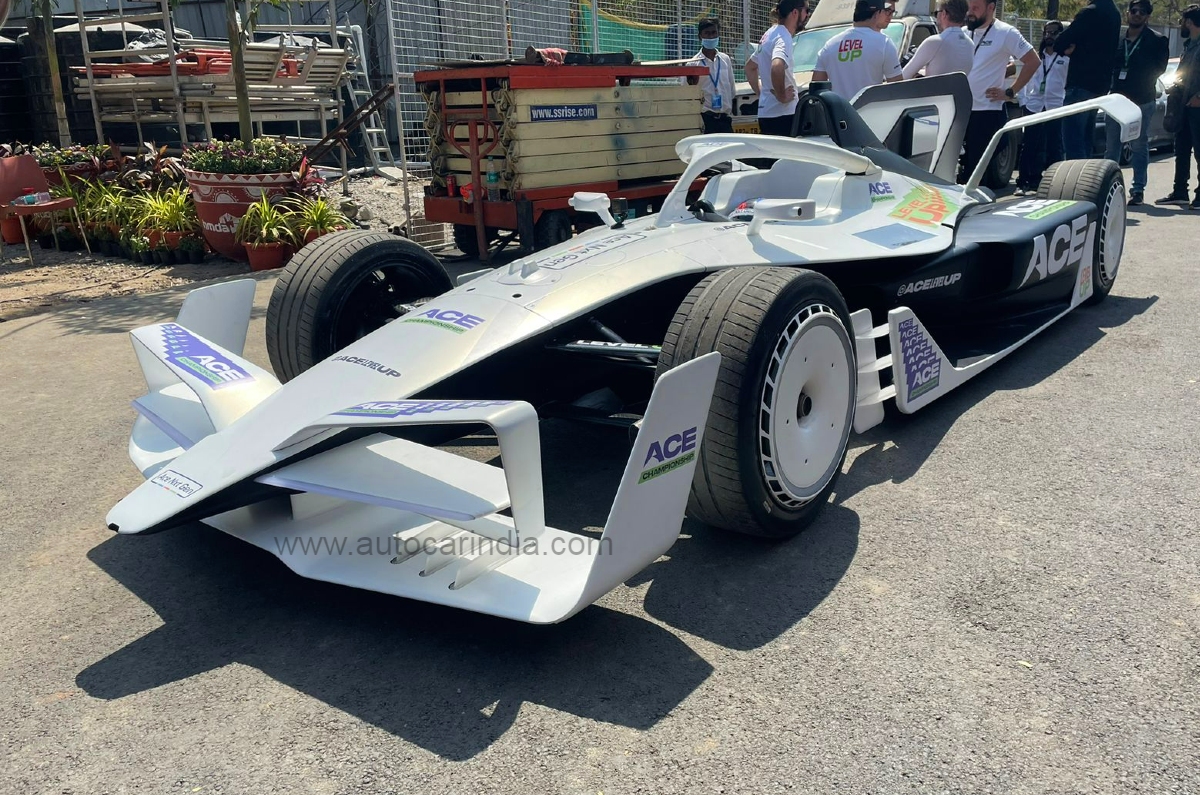 The ACE Championship has been announced as the first-ever electric junior racing series; India launch plans in 2024.
Plans for an all-new electric racing championship, which will act as a feeder series for Formula E, have been announced at the Hyderabad E-Prix. The new ACE Championship, as it will be called, is set to launch in 2024.
While it will be an international series, project leader Dilbagh Gill told Autocar India that there will be a special focus on Asian countries.
Cars to have similar performance as Gen2 Formula E
Plans to launch at 2024 Hyderabad E-Prix
ACE Championship cars
The championship will have two levels of racing – an entry-level Challenger Series and the top-tier ACE Championship. However, the same car will be used in both levels. "This is going to be the first championship in the world where one single race car can compete in two different championships," explains former Mahindra Racing team principal Gill. "Each team can have two different drivers in the ACE Championship and ACE Challenger series, driving the same car, but with two different power levels."
While further details of the car will be revealed in due course, it will be similar in performance to the Formula E Gen2 cars, which generated 250kW (340hp) of power. While the car is being developed in Spain, organisers are working on plans to produce them in India.
The prototype shown in Hyderabad featured plenty of LED components on the bodywork, wheel rims, etc. All of these will be used to convey more information about the car during the race. For example, the wheels could light up green when the cars are accelerating, red when they're regenerating energy, and so on.
Plans to launch ACE Championship in India
The series calendar will be compressed to 10 weeks, with around 6 rounds planned. Each race weekend will feature two races. Organisers want to launch the championship in India, with the 2024 Hyderabad E-Prix being targeted.  
Rounds will be held on regional circuits, with the idea being to bring the championship to areas that are currently underrepresented in existing championships.
First ever electric junior racing championship
What makes the ACE Championship pivotal is that it will be the world's first affordable junior electric racing series. While it will definitely act as a feeder series for Formula E, Gill stresses that with various other series like the World Endurance and World Rally Championships also featuring some form of electrification, this will act as a stepping stone for other racing series as well.
"The ACE Championship is an important initiative. To create opportunities for young drivers to enter motorsport via the 'electric avenue' is crucial – and was missing until now," said Alejandro Agag, Formula E Founder and Chairman.
"The ABB FIA Formula E World Championship is the pinnacle in electric motorsport, but to have categories which can facilitate younger drivers coming through is crucial and that's why the ACE Championship is very important. Having more competitions in countries around the world where there is not as much access to and representation in motorsport is key to success. To create this championship in India is a great idea and it certainly fills a gap in a huge market for the automotive industry."
The series is hoping to act as a training ground of sorts for drivers and engineers alike. Gill added, "We are looking at the ACE Championship to provide representation to people who are interested in driving, and to engineers around the world, who have not had the opportunity to date, and giving them a chance to level up."
Former F1 and Formula E driver Nick Heidfeld has also come onboard as advisor and development driver for the ACE Championship. Heidfeld said, "We want the ACE Championship to be fair and affordable, and attract youngsters into the series from all regions of the world to make the step into motorsport. In ACE Championship, we are trying to create something which gives young drivers the possibility to get into the sport on good circuits and move forward in their careers."
Also see: