7 March 2023 – Growing demand for better connectivity at sea will be answered with the creation of a Maritime division by the company behind the world's first satellite capacity aggregation platform.
neXat's new Maritime Unit will offer satcom installations on a variety of boats and on-board IT services including radar, Video Graphics Array (VGA), and Digital Visual Interface (DVI) cabling.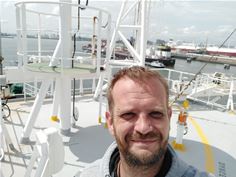 Mario Alen, Business Unit Executive – Maritime
The unit will be headed up by the former owner of Belgosat, Mario Alen, and is part of neXat's Operations department, led by Founding Partner & Chief Operations Officer Caroline De Vos.
"Connectivity at sea is at the point of being a necessity rather than a luxury. That is why we are dedicated to providing customers with the best satellite communications needed to carry out tasks on and offshore," said De Vos. "neXat is pleased to have taken this opportunity and we look forward to welcoming Mario to the team. His established skills and knowledge of the sector will help us thrive in this new business venture."
Mario will strengthen the neXat team by sharing his knowledge and expertise to help customers in the maritime and industrial sectors access video, voice and data communications at sea and onshore through a variety of solutions, including satellite, IoT, CCTV, and powerline connectivity.
The first year of the new business venture will see the start of the installations process, before expanding at a later stage to maintenance and site survey activities.
neXat already has a growing portfolio within the maritime sector, which includes bringing better satellite connectivity to the commercial shipping industry and the private leisure boating industry. The ever-increasing demand for satellite solutions at sea is met with the neXat platform, a complete OSS/BSS, carrier-grade, fully redundant platform which allows operators to outsource satellite services and value-added services across the Maritime sector.
"neXat already has a deep understanding of the satellite technology and are well-known satellite service providers, which will help them go far as they enter the industry," said Mario. "I'm excited to have joined the neXat team on this project and look forward to seeing what the future holds."
For more information about neXat, visit: www.nexat.be
ENDS
About neXat, powered by SatADSL
neXat, powered by SatADSL, is changing the way satellite connectivity business is done.
Its disruptive flagship neXat platform, the world's first satellite aggregation system, acts as a capacity broker connecting teleports with new customers and markets. Through this model, neXat is creating a 'network of satellite Networks'.
The neXat company was founded in 2011 and is an award-winning satellite service provider based in Brussels, Belgium, delivering innovative solutions worldwide to satellite operators, teleport & hub operators, government and enterprise bodies, and ISPs.
Active in 50 countries and already connected to more than 15 teleports and 25 satellites, the neXat PaaS offering is a virtual OSS/BSS with competitive resilience, security and quality features. It allows teleport and hub operators to offer the full range of neXat's value added services to their own clients and provides classical and packaged connectivity services through its network of ISPs or directly to end users.
neXat seamlessly offers a complete portfolio of reliable satellite services to its demanding high-end satellite service customers through a user-friendly eMarketplace.
Visit www.nexat.be for more info and follow us @neXat_BE on Twitter and LinkedIn for regular news and updates.
PR Contacts
SatADSL
Caroline De Vos
Co-Founder & COO
+32 478 31 13 76
Caroline.devos@satadsl.net
And
James Curry
Proactive PR
satadsl@proactive-pr.com